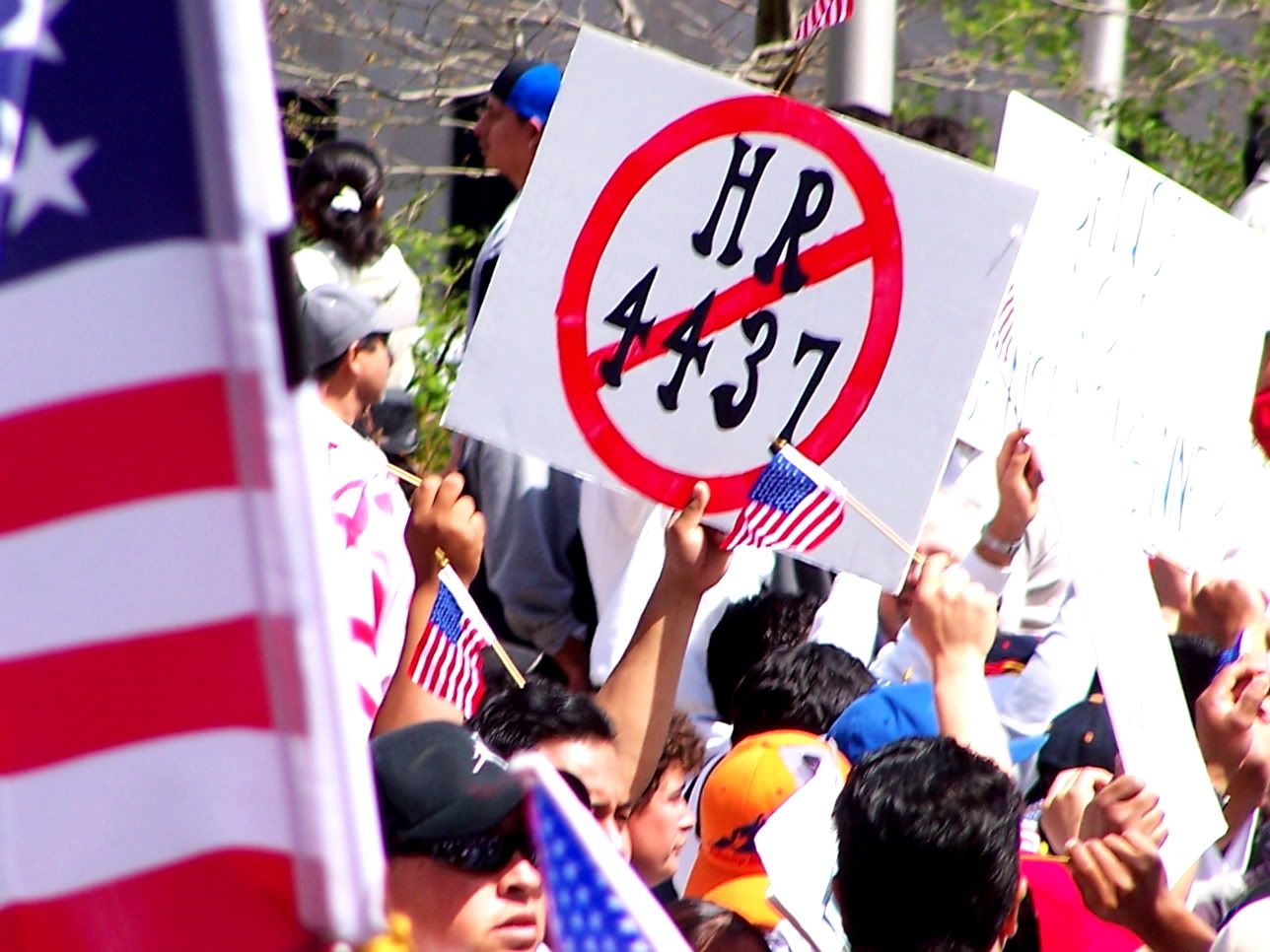 The immigration rally in Love Park today was beautiful. I'm not good at estimating crowds so I'll have to go with the 7,000 - 10,000 I've seen reported around.
The weather was gorgeous. The sun couldn't have been brighter. The colors of the thousands of flags and signs were vibrant.
This is my view of the main stage where most of the chants of Si se puede started. Nearly all the instructions to the crowd, by the way, were in Spanish. It was sink or swim for us monolingual people if Spanish wasn't the one language we had. From what I've seen in other reports, the message of all the events was well coordinated: HR 4437 is insane. Life, liberty and the pursuit of happiness is an unalienable right. We're all immigrants. Albert, from Dragonballyee, got some great shots of the Native American performers who drove that point home. There was also a very visible and creative effort to meld images of flags from native countries with the stars and stripes. Let's see the wingers whine about that. Lots of people fixed flags back to back, a trick that worked to excellent effect when the new, double-sided flag was waved.

There was a sizable Asian presence there. That little boy carrying the dragon head was a great dancer. He made me wish I had brought my video camera. I didn't get a chance to talk to the drummers to find out their story. Albert has lots of photos of the marchers that came up from Chinatown. I'm glad they showed up in force. It's been way too easy for the wingers to pretend that every immigrant comes from Mexico.
This beautiful woman comes from Sierra Leone.
This is my favorite picture of all the ones I took because it captures the energy of the afternoon perfectly. There's a circular plaza in Love Park with a fountain in the middle. Those men ran the flags of the USA and Mexico around the fountain over and over again. Every time they passed, people stood up and cheered creating a wave effect through the crowd. It was emotional and exhilarating, like the day.