Read this Guardian story (via David) about the reality of war and then plan your trip to NYC - or whatever is the closest city having a peace mobilization on April 29th.
Then treat yourself to the funniest thing I've read all month.
Fiscal responsibility is the centerpiece of Republican administration. But national security doesn't come cheap — at least, not as cheap as we need. That's why Congress passed the Sam Walton Federal Savings Act, better known as WalmartDotGov.

Combining the rich resources of the United States government with the massive efficiencies and everday low prices expertly masterminded by Sam, accessing Federal resources is now a better value than ever!

Don't miss our great savings in Defense, Health Care, Customs, and now, Congressional Seats. At WalmartDotGov you'll find everything the United States government has to offer at unbeatable prices. If you can't find it here, it's probably illegal.
I'd recommend a link but they're all too good to pick just one.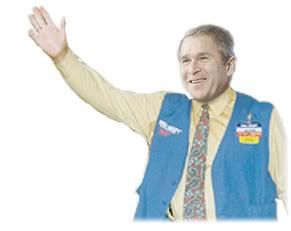 Found at the Writing on the Wal.