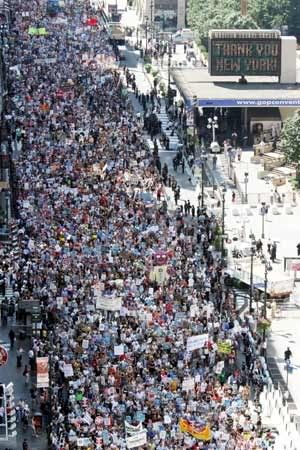 For the best coverage of the 300,000+, arrest-free antiwar rally in New York yesterday go to the TomDispatch:
[A]s we leave the subway at 18th street and head east about an hour before the demonstrators are to step off. The streets are still largely empty of all but the police, gathered in knots at every corner. Their blue sawhorses ("police line do not cross") rim the sidewalks seemingly to the horizon and everywhere you can see stacks of the metal fencing with which the NYPD has become so expert at hemming in any demonstration. None of this inspires great confidence.

Sometimes, though, surprise is a wonderful thing. Who would have guessed that several hours later I would be standing on Broadway and Leonard Street looking back at perhaps 20 packed blocks of demonstrators -- bands, puppets, signs by the thousands, vets by the hundreds (if not the thousands), huge contingents of military families, congeries of the young, labor, women, the clergy, university and high school students, raging grannies, radical cheerleaders, and who knows who else -- an enormous mass of humanity as far as the eye can see and probably another 10 to 15 blocks beyond that. It was enough to make the heart leap. I had no way of counting, no way of knowing whether what I saw was the 300,000 the organizers claimed or merely the vague "tens of thousands" mentioned in most media reports. It was, to say the least though, a lot of people, mobilized on limited notice.
He profiles fourteen groups and individuals who came out yesterday in opposition to an illegal and unconstitutional, unnecessary war of aggression.
Darfur today. Immigration tomorrow. It's when protest politics start happening in clusters and around the country that the establishment and the corporate media start paying attention. Congratulations to everyone who makes the effort and shows up.