Over the last few years our neighborhood became home to what must have been an overpopulation of groundhogs because late last year a fox started hanging around. This year a second one showed up and the two set about killing and running off as many groundhogs as they could and taking over their spectacular borrows and a tunnel system that runs throughout three lots.
As suburbanites, my neighbors and I were excited to see the foxes first show up. After all, our most exotic visitor is usually a deer. Foxes are super rare around here. With them running around we fancied ourselves a regular game preserve. Give us your huddled foxy masses yearning to breathe free, and all that. The lion shall lay down with the lamb. Only the groundhogs, squirrels, bunnies and a few birds would have cause for worry. Nature was working and we were into it.
Except that early one morning last week I heard the foxes outside one of our windows, barking. It's a horrible sound that's half bark, half screech and one which I had come to associate with very slow and/or unlucky groundhogs. I looked out the window as one would look at a car accident and saw that they had instead cornered my neighbor's cat. My son later told me that I jumped out of my chair and ran to the door looking and sounding like Batman: "To the Bat Poll, Son! They've got Kit!" and ended up outside barefoot more resembling a king baboon waving my arms and barking myself at the two foxes. For the record, Son of Baboon Woman stayed in the house to Google "fox attack" so he'd know what to tell the paramedics he was planning to call to treat me. He's always thinking, that kid.
The second the foxes were distracted, the cat ran up the tree he had been backed up against, doubtless planning to do that all along and just waiting for the right moment. The foxes eventually ran off but not without a lot of apparently simeon encouragement from me. And so we learned a valuable lesson: foxes really are predators and not so much the Disney characters we've come to know and love.
But then today what happens but six of the cutest kits, who, believe me, out-Disney Bambi, came running and tumbling out of one of the biggest former groundhog condos. It's under a huge pine tree across the street from me. From the safety and obscurity of my living room, I got some photos (see extended entry) with my standard mom-issue Kodak digital. I don't have the right lens to get pictures from that distance so most of the ones I got are blurry. And the kits never stopped moving, but you can get the idea of how cute they are anyway.
Look now because the neighbors are already talking about having them removed. I have a bad feeling about that. It looks like Nature has worn out her welcome.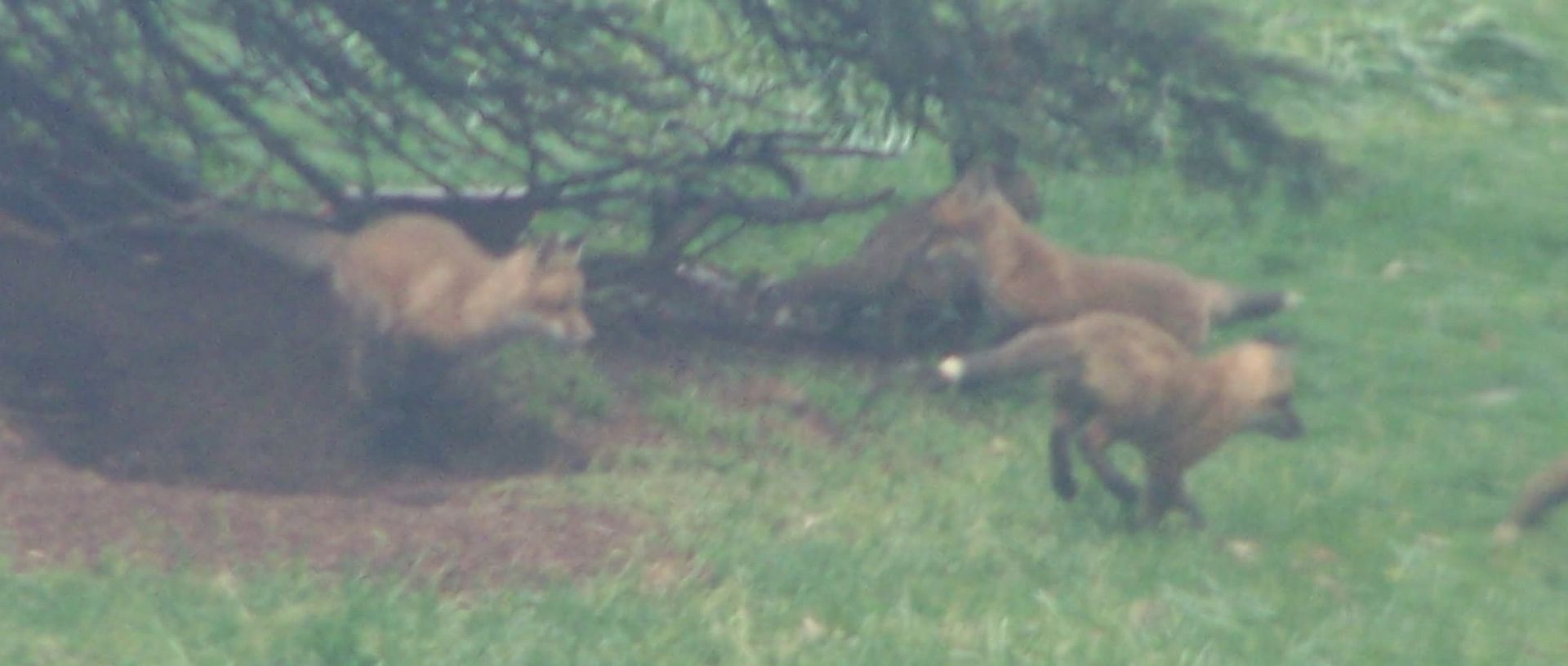 Blurry but still cute.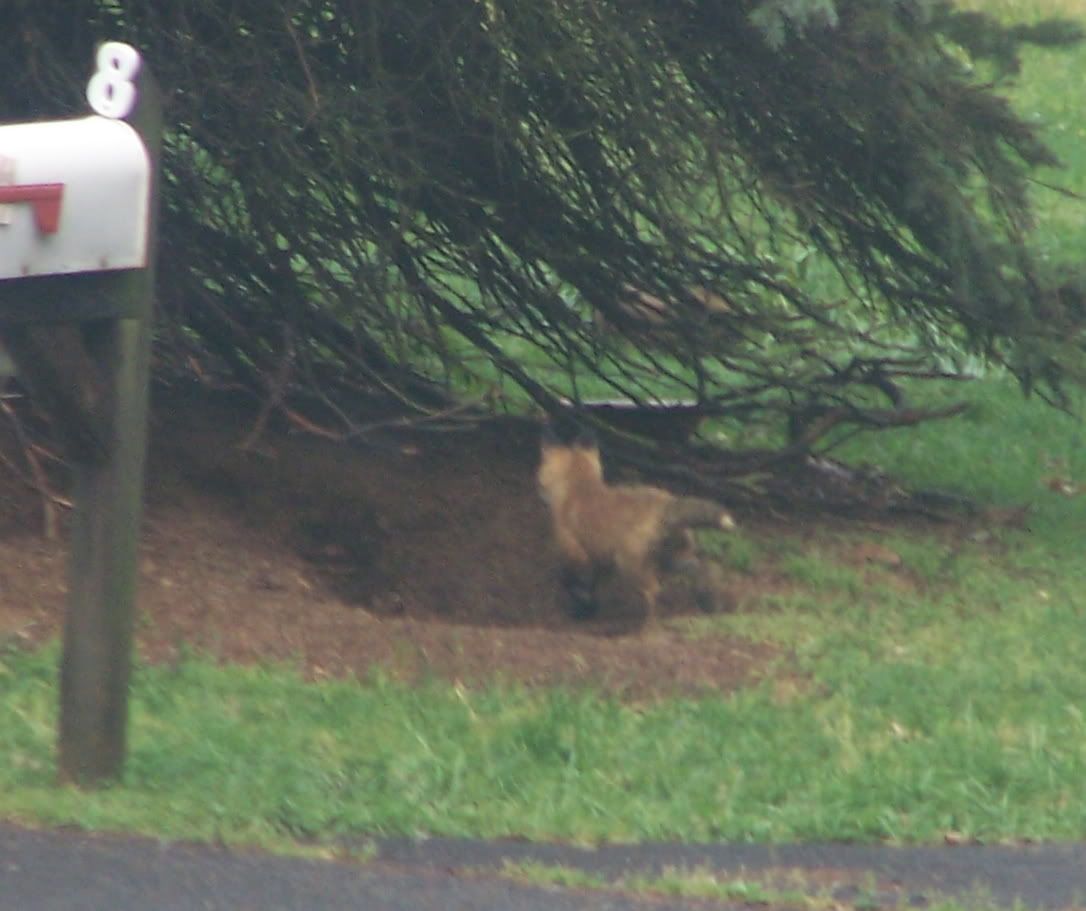 Because the den was built by groundhogs, it's more an amusement park than a home. The kits can shoot in one hole and out another in no time.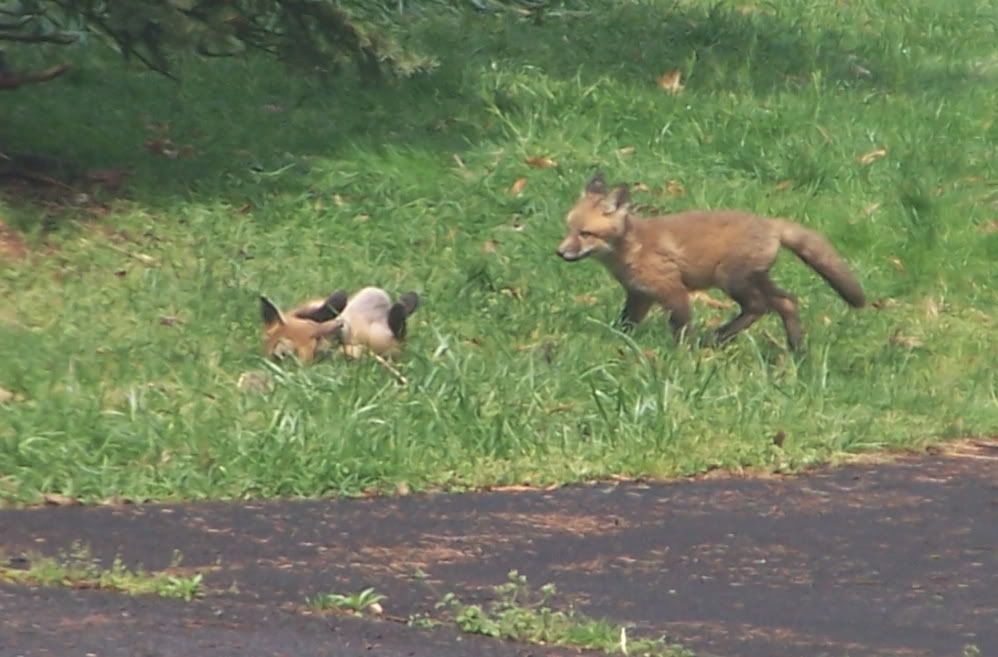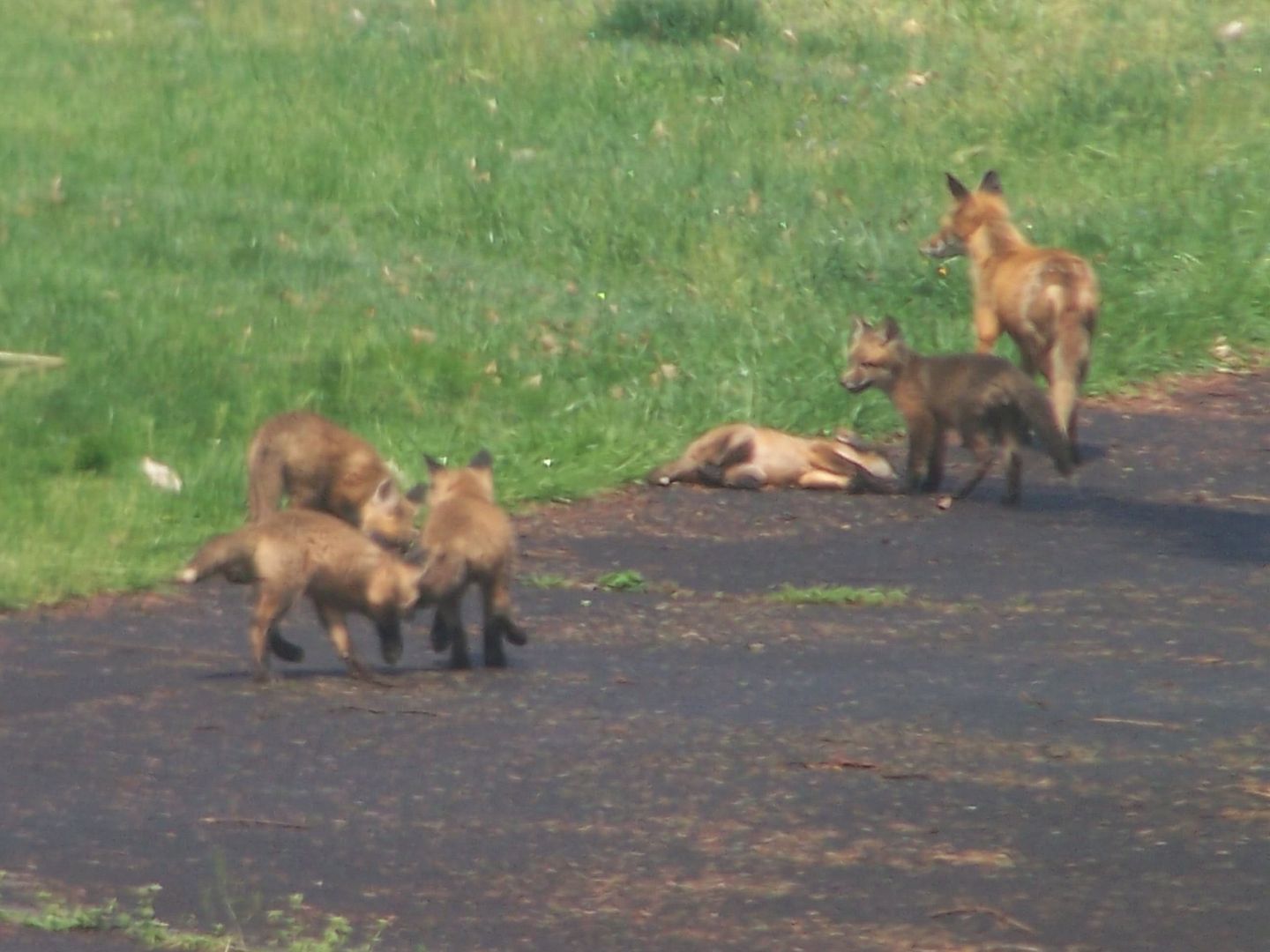 Five kits and one mom (far right). One kit is missing. It's probably what the mom is looking at.

Mommy Fox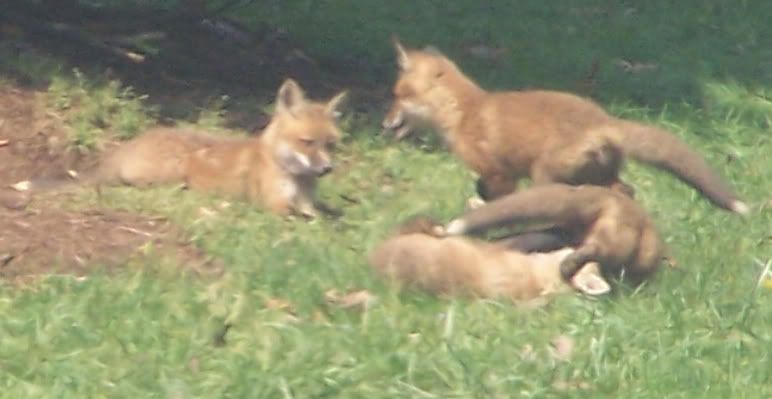 "So this is how I'd rip out your throat. Now I'll be the rabbit."

So damn blurry.

This is the longest they sat still. It was about five seconds.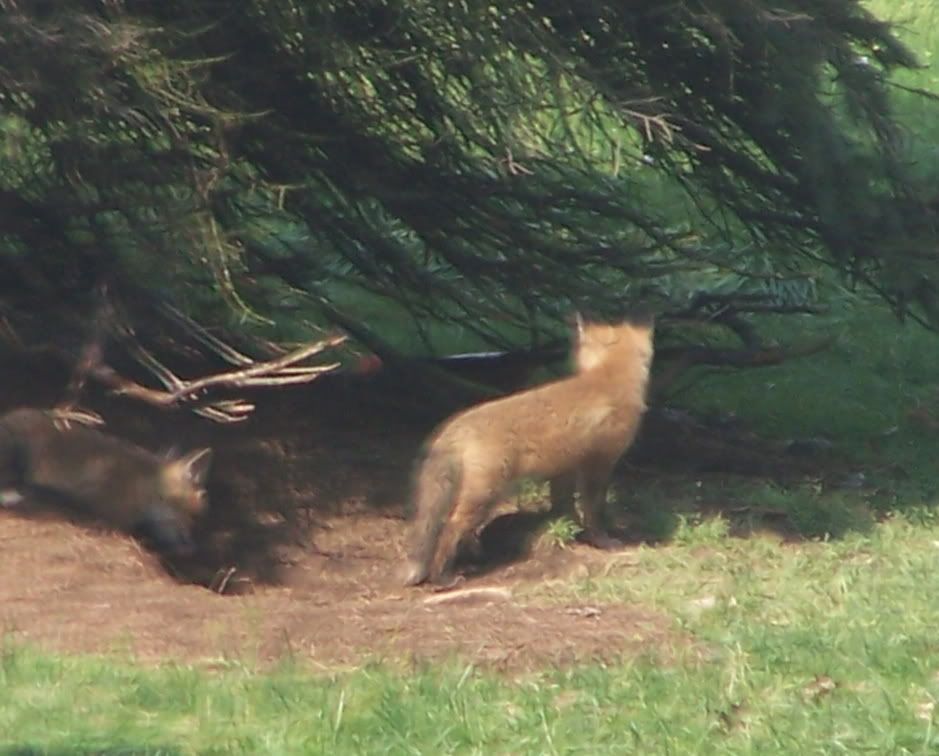 Waiting for a friend to pounce on.