I made it over to the Disabled American Veterans' hall in Bristol today to be at Paul Lang's event with Sen. Max Cleland. Nearly fifty people crowded into two rooms to hear Max Cleland endorse Paul for the State Senate. Earlier in the day Cleland made an appearance with Brian Lentz, who's running for State Rep in Delaware county.
Cleland clearly had done his PA homework. At one point in his brief speech he said something like, I don't know anyone who can raise their pay twenty thousand dollars over night and then he mentioned that passing that hike was particularly tone deaf when the legislature can't get any action on a minimum wage bill.
He also told the crowd that 2006 is a time for action. No matter what your political position is, Democrat, Republican, Independent, "don't stay indifferent this year. The stakes are too high."
Paul told his the story of his time in the Coast Guard, which is harrowing. I've heard his stump speech before though so I sat quietly in the doorway to another, less crowded room while he was making it. From my position behind the speakers I got a good look at the crowd. Iraq War vet, Patrick Murphy was there and was later introduced to the room. And of course there were veterans from other wars as well. There were also people from peace groups, from the Coalition for Voting Integrity, from both of the local Democracy for America groups. Every Democratic group out here knows Paul Lang and loves what they see and hear from him. I'm talking about Democratic groups, famous for their inability to agree on much of anything agreeing that Paul Lang is the guy they'll come out late on a weekday afternoon to support without a single complaint.
That's because as soon as you spend five minutes with Paul, you know that he's a genuinely honest and informed person skilled in the ability to build real coalitions - the kind where everyone walks away thinking about what they get out of the deal instead of what they gave up to get it. Max Cleland picked a winner.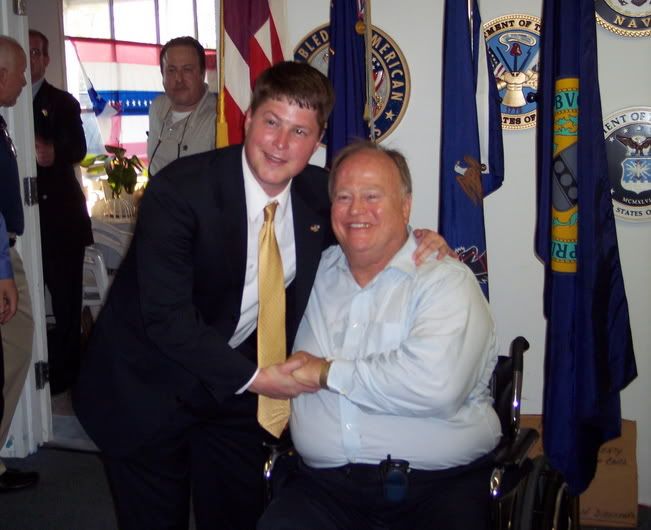 This is a photo of Sen. Cleland singing a petition to bring voter-verified paper ballots to Pennsylvania. The race he lost to Chambliss, where he lost a 5% lead in the polls overnight to lose at the polls by 7%, is a one of the icons of the VVPB movement. For some reason he doesn't talk about it, joining Gore, Lieberman, Kerry and a bunch of other Dem pols. It's like there's been a directive from the Party not to discuss suspicious losses. Anyway, he took the time to sign our petition even though they were trying to organize a photo-op with him. I'll take what I can get.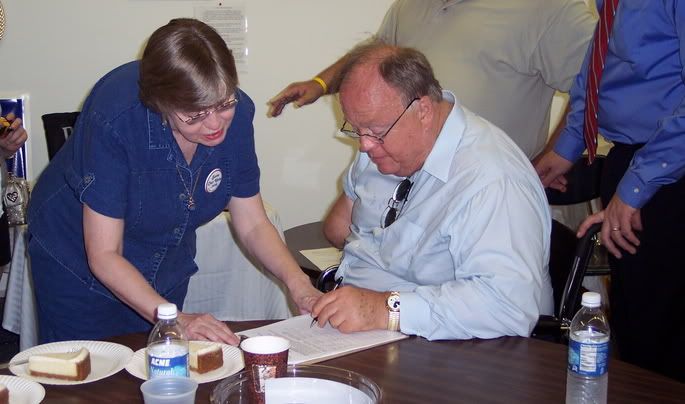 UPDATE: Jane has a rundown of both the Lentz and the Lang events. One day I'm going to meet that woman.