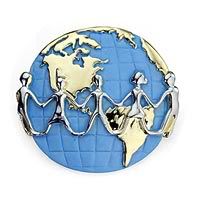 It's very simple to do. All you have to do is shop at the Hunger Site:
In the month of August and beyond, each completed order at any of our stores will help build an elementary school in an area of rural Afghanistan which had no school before. This is in addition to the regular donation we make with every item you buy.

Schools are built by Central Asia Institute, a registered 501(c)3 non-profit based in the United States. Their mission statement is "To promote and provide community-based education and literacy programs, especially for girls, in remote mountain regions of Central Asia." Founder Greg Mortenson is committed to bringing education to the most remote and rural areas of Afghanistan and Pakistan, believing that education -- especially for girls -- is the key to a more peaceful future. To date, CAI has built 55 elementary schools in some of the most remote regions of the world. We're excited to raise that number to 56, with your support!
You can get a really cool Blue Morpho butterfly necklace or a Cultivate Peace pin, pictured above. Or, for twenty bucks, you can outfit two Afhan girls to be able to attend school in the first place.
Now do what BushCo thinks Americans do best and go buy something.