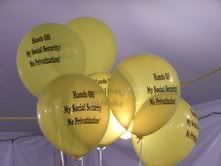 I'm so tired. I couldn't get a lot of good Grange Fair photos today because we were all about the setting up. The balloons looked good though and the kids seemed to like them. (Note to self: don't work so hard to give balloons to adolescent boys since they're mostly into catch and release.) I have a long list of things to remember to bring tomorrow.
I visited the Coalition for Voting Integrity's booth but didn't have time to volunteer as I had hoped I would. We're there to balance out the misinformation being spread by the county about their shiny new (and used) unverifiable and unsecure electronic voting machines. CVI is a group that knows how to dress a set. Their booth is gorgeous: color-coordinated, easy-to-read, colonial-themed, interactive. I'll get better shots tomorrow. Today's photobugging was all about Congressman Fitzpatrick who made a special effort to get to the CVI booth: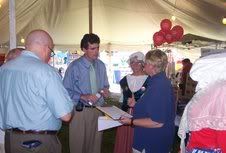 That's him talking to CVI volunteers. Later on Rob Kall (on the left), voter-verified paper ballot advocate and editor of OpEd News, asked him about H.R. 550. There's a dispute in the voting rights community about that bill. Some people are saying that it's fatally flawed because it doesn't go far enough. Some say that it's a good first step. It's not going to pass no matter what happens so I'm for saying that it's a good first step and that the next one must be better. I'm having my cake and eating it too with that one.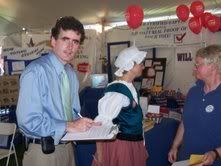 Here's Rep. Fitzpatrick signing the sign-in sheet. He's not alone. CVI had something like 4 pages filled with names of people who want more information on this issue and today was a slow day. Voter-verified paper ballots is a winning issue hands down. I can't think of anything that would be more popular state-wide. Kudos to Congressman Fitzpatrick for being the first candidate to show up at the CVI booth to show his support for the work we're doing to ensure the vote.