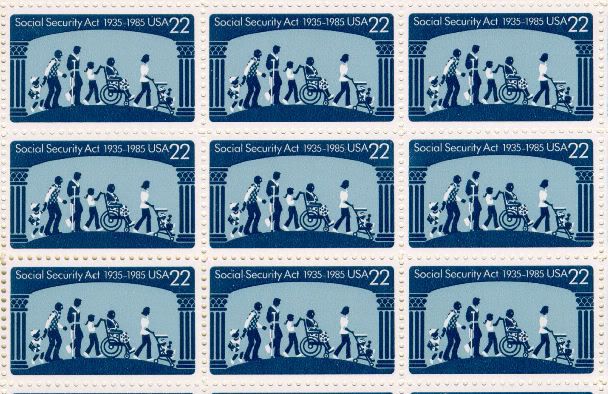 Happy Social Security Week! I transcribed (loosely) the conversation about Social Security between Josh Marshall and Mickey Kaus, which Thomas mentioned in a recent comment. The SocSec part of the conversation starts at 4:30, It's a good exchange to hear/read because it shows how effective the latest Republican jujitsu on SocSec is. They're hauling out class arguments they don't believe to make what will mean the destruction of the most successful social welfare program in American history appealing to people who truly believe in social welfare programs. It would be beautiful if it weren't so evil. And remember, Roosevelt saw this coming, which is why he insisted that Social Security benefit everyone instead of only the poor.
Kaus' argument, in which he blithely assumes nearly every GOP talking point about Social Security and social welfare in general, is that we can't have everything and so let's lop off the rich from Social Security and pass the savings into a shiny new Universal Health Care system. The GOP will be willing to do this because they know that they need to get on the UHC train.
Josh's argument is that we've been down this road very recently and we have learned that there is no bargaining with these people - to act in a way that assumes otherwise is lunacy.
Kaus: We can't afford Social Security and National Health Care. Given the choice of giving poor people medical care and rich people Social Security, I want to radically cut back Social Security. What's wrong with saying that?

JMM: What's really on the table today is privatization and basically making it no longer social insurance. It doesn't save costs. It's bad policy.

Go back to End of Equality. One of your premises was, "If Democrats would give up on redistribution, tax policy, etc, that would give them the opening to do things in the civic space and particularly on UHC. I think what the 90's showed is that the GOP would take the end of a more traditional Democratic tax policy and walk out of the room. It didn't help Democrats at all on UHC. So politcally, I think your premise, in terms of political economy, is wrong. So it's not clear to me that if you give the Republicans massive cuts in SocSec -- that money isn't going to go to UHC.

K: It won't if the Dems aren't in power, I agree.

JMM: If you can make some argument to me that how you get to UHC is by raising the retirement age a couple of years or maybe phase in some benefit cuts, that's not something that's beyond the pale for me.

K: Health Care is coming. The smart Republican like Mitt Romney are trying to come up with a plan. You're not going to be able to stay in power without a HC plan. I don't want SS to be solvent in its current state because sending money to both the rich and the poor spends too much money than we can afford.

JMM: You and I both know the arguments for universality. But you can get rid of all the money sent to the really rich and it wouldn't make that much difference. You aren't being straight about how much money you can save by eliminating the rich from Social Security. If you're talking about people who could survive without their SS check, well that's another issue. But you're getting into a different politcal and and policy caluclation.

K: In Australia they did this and cut the program in half. The top third get nothing. The poorest third get full benefits. In the middle there's a transition and you get something in between. Are you saying that if we lop off the top third, that wouldn't be worth it to trade for UHC?

JMM: Again, I think your idea of a trade is a fallacy. No, I don't think we should cut all SS benefits for people in the upper third of seniors. I don't think SS is there just to keep people literally off the sidewalks and from dying without electricity in pools of their own urine. I think there's something to be said for the way we have it so that people can expect some sort of reasonable lifestyle as seniors. I would ask you: you go find the stats in terms of the inc charts where you get for the income for the "upper third of seniors" who draw SS checks.

K: My guess is that's 50K or something like that.

JMM: Let's find out.

K: But as I said, those people comfortable because when you're retired and making 50 thousand, you're in pretty good shape. Australia has a welfare state. They freed up money that they spent on other welfare programs. I agree it's worthwhile having a plan that doesn't just keep people from starving to death and having their electricity cut off. It's worthwhile having a program that sends checks to rich and poor alike but it's not as worthwhile as having a HC plan that prevents rich people from living and poor people from dying. (WHAT? Is Soylent Green rich people?) That's more important.

JMM: Well, again, I don't agree with either of your premises. One: that by allowing the Republican party to end Social Security this is going to make it possible to get UHC. It'll further weaken politically the Democratic party and make UHC even less possible. Again, I don't agree with your basic premise, that SocSec is an unsustainable program in its current form ...

K: No, I don't say that it's unsustainable. I say that it's easier to afford a good HC system if we save a whole bunch of money on Social Security. ...

JMM: ... I don't agree with your premise that it's all either/or as your suggesting.

K: You believe in constituency-based politics!

JMM: There's two things here. I don't agree with you on substance and how the numbers work out. It's not really a matter of constituency-based politics. It's not a mattter of oh, if you cut Social Security, you'll lose the senior and you won't have votes for UHC. I think, more broadly, if you have a prog movement in this country, a Dem party in this country that is consistently undermined by dismantling the welfare state, you won't be able to build up the welfare state in other ways. I think it is ignoring politics, only focusing on the numbers and the policy questions and being indifferent to politics, thereby ignoring political economy in general and then at the same time even having assumptions on policy ground doesn't even make sense. So you're doubly all wet.

K: If you're going to have a HC system, you have to propose some grand bargain that cuts the Gordian Knot and that's one. But I don't understand why your thing isn't constituency-based.

JMM: Maybe if we had more time ...
Don't let yourself get sucked in to any debates like this. It has been established that Social Security is not in crisis. UHC is, of course, affordable if it doesn't include billions of dollars in unearned payouts to private industry. If you need a realtime example, point people to the fiasco that is Medicare Part D. It's confusing, privatized, wildly overpriced and ineffective. Low income seniors are reporting no increase in satisfaction despite the dramatically increased costs and middle income seniors are getting socked with coverage gaps, bait and switch policies and forced enrollment. Make no mistake - this is the future of Medicare and Social Security if we let the Republicans have their way - or even a fraction of their way.
The next time you hear someone talking about Social Security, tell them that it would be a better idea to fix Medicare Part D first and get some practice doing social spending right before we start destroying a program that has worked brilliantly for over seventy years.