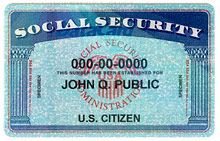 If you take "scientific" in the BushCo, the-world-is-6,000-years-old sense of the word.
This is what I'm learning from my conversations with people at the Grange Fair:
People are truly opposed to privatizing Social Security.
People younger than 60 don't think that Social Security will "be there" for them.
They resent the fact that Social Security doesn't pay off like the lottery.
So somebody run those results over to Democratic Headquarters fast. You can see that people are susceptible to the Team BushCo lies. I wish I could quantify how close the national mind is to being swung over to the Dark Side by the promise of Wall St.-style riches from privatized accounts.
If I were in charge of framing this, I'd point to what a clear disaster Medicare Part D is and lead people to the inescapable conclusion that that is what is in store for Social Security if we go the privatized path. Of course doing that would put a lot of corporatist, pro-Part D Democrats, as well as the ones who were just too stupid to see the law for the corporate sop it is, in the hot seat.
Luckily, I am in charge of framing stuff around here and when I talk to people. And happily for my credibility, the only thing I have to consider about any stupid and/or corporatist Democrats is the date when I can help to get them booted out of office.
Off to the fair - with better signs this time and more flyers.
There is no crisis!! Tell your friends.