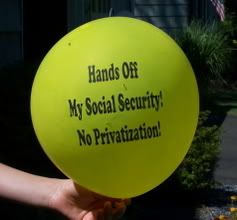 Today I'll be taking the fight to preserve Social Security (I love that framing) to the mean streets of central Bucks County! The Middletown Grange Fair (cows, games, tractors, politics, water purifier salespeople) starts today. PA Action has a table there dedicated to Social Security and Medicare Part D. We're giving out the balloons pictured above because you aren't allowed to solicit anywhere at the fair except at your designated site. The balloons are the best way to get your message off-site. Tie'em to little wrists and strollers and voila, everyone is seeing "Hands Off My Social Security!"
The Dems and the Republicans were the ones to pioneer this idea as far as I know. When I wanted to know how many balloons to order, I called both local party offices. The Republicans refused to tell me how many balloons they use during an average fair. The Dems told me without any question. 2000 balloons!
So we're armed with 2000 political message balloons and a huge tank of helium in the heart of Bucks County. With this we will save Social Security. I'll bring back photos and stories. And fried Oreos. Lots of fried Oreos.