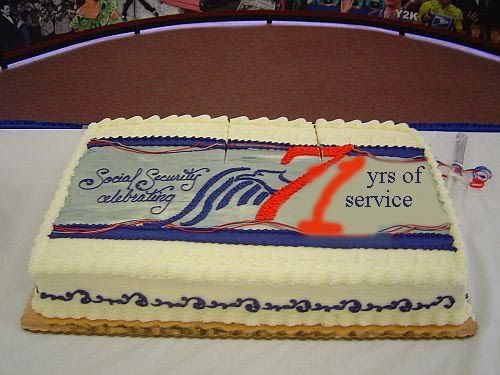 See what happens when Photoshop falls into the wrong hands? It's just awful.
Speaking of awful, I heard from my colleagues in PA Action, who held a Social Security Anniversary event outside Santorum's Harrisburg office, that Rick Santorum's office staff refused even to accept a cake celebrating the 71st anniversary of the most successful government economic program in American history. Can you imagine that? Everyone likes cake. And according to the new GOP party line, everyone loves Social Security. The word from the Republican leadership released for public consumption is that Social Security isn't a big issue in Washington. Even John Boehner is on the Social Security preservation trolley.
This is from a television news item about John Boehner, who traveled to upstate NY to stump for a local congressional candidate, Ray Meier:
While Meier and Boehner were speaking, a protest was underway outside. The group fears both men support privatizing Social Security. Meier and Boehner, denied the claim. Business leaders in Cortland County had breakfast with the House Majority Leader.
How in the world would people get the idea that Boehner, who now says that he is opposed to privatization, in reality supports it? Maybe from this:
Boehner Pledges To Privatize Social Security: 'We're Going to Get Serious About This

In an interview with the Washington Times published yesterday, House Majority Leader John Boehner (R-OH) promised to privatize Social Security:

Q: Where does Social Security reform stand?

A: I just met with Congressman [Frank R. Wolf, Virginia Republican], a few minutes ago with his SAFE Commission [formed to fix the entitlement programs]. In 1990 when I first ran for Congress, I talked about the need to reform these big entitlement programs because the sooner we began the process, the easier it would be to make the necessary changes so that these programs were sustainable for the long term. … If I'm around in a leadership role come January, we're going to get serious about this.
In my work with PA Action, I'm hearing from groups around the country who are watching their previously-supportive-of-the-destruction-of-Social-Security Republican legislators flip flop all over the place on this. Josh wrote about the wordgames they're playing here. It seems that "I am opposed to privatization" doesn't mean what anyone who speaks English thinks it does.
Of course, I'm concerned for Social Security, one of the country's proudest acheivements, which has been in the Right's crosshairs since before FDR's ink was dry seventy-one years ago, but I'm also concerned about the message this inconsistency of message sends about the veracity of the Republican party and its candidates. If "I am opposed to privatization" doesn't mean that the speaker is, in fact, opposed to privatization, what is the right question to ask to find that out?
"Are you lying to me?"

"What do you mean exactly by privatization?

Can I get that in writing?

"Do you agree that Social Security is not in crisis and therefore should not be touched at all until an administration not dedicated to its destruction is in power?"

"What do you plan to do in Washington to keep Social Security preserved in its current state of operation until a less hostile administration is in power?"

"Can I get that in writing?"
If you live in Bucks County, you've seen your congressman, Mike Fitzpatrick, very recently come out strongly for something that sounded like support for keeping any and all privatization schemes away from Social Security. I guess since he's a Republican though, we really can't be sure.