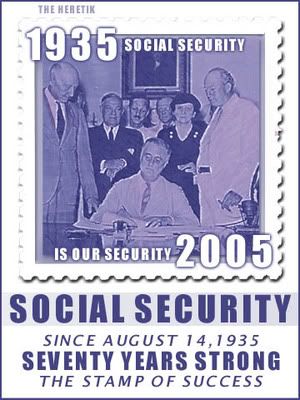 How gorgeous is that? Guess were I got it:
a) from the Democratic party's politically astute year-long celebration of the most successful government program in American history, a program devised by a Democrat and under attack by the right every day since - never more so than during the previous five years
b) from the Social Security Administration's celebration of a milestone event in their history as well as that of the country
c) from the White House, which saw an opportunity in 2005 to put ideology aside for just a moment to reach out to all Americans in celebration of the mainstay of our tattered social safety net, which they claim to want to save and not destroy
d) none of the above
You guessed right. Last year, bemoaning the fact that nobody skulking around the halls of power of either major party thought that celebrating the 70th anniversary of the signing of the Social Security Act was worthwhile, I asked the internets' foremost Photoshop virtuoso to create a graphic we could use to celebrate the most successful social insurance program in American history and he did.
Tomorrow is August 14, the seventy-first anniversary of the signing of the Social Security Act. It is under attack today, just as it was last year and has been in earnest for the last six years. The day will go largely ignored, just as it did last year. But at Fact-esque it will officially be Social Security Anniversary Week. I'm not sure yet what that means and am open to suggestions. Feel free to keep your suggestions for use on your own blogs - the more the merrier. Just remember to link back to here so I can see what you're doing. And steal the graphic as well. The Heretik won't mind. That's what he made it for.