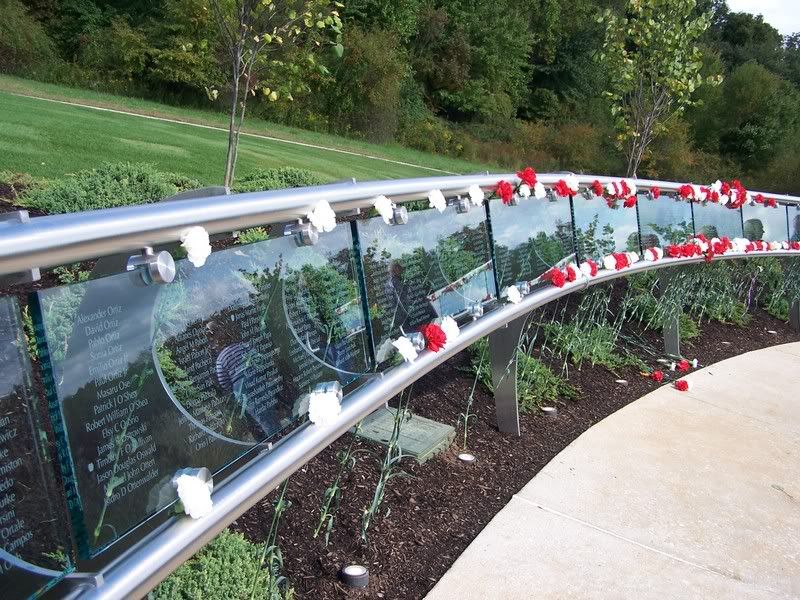 Our local paper ran a story about the dedication ceremony for the Lower Makefield Garden of Reflection, which is the state's memorial for the victims of the events of September 11, 2001. The story in the Courier was a good one but I noticed that there weren't any photos available online - or at least none I could find. So I took time on Sunday to visit the garden to get some pictures. I was lucky enough to be able to talk to the architect of the project, Liuba Lashchyk, and one of the members of the design committee, both of whom graciously answered some questions for me.
One of the most striking features of the memorial is the concrete walkway around the fountains. It's a perfect circle but it's not level. It rises and falls as you walk around it. The member of the design committee to whom I spoke said that the path rises from the ground and returns to it as it circles the water. It is very moving, emotionally and physically, to walk around that path. In fact, the entire memorial has a fluid feeling suggesting change and rebirth. The land around it is scarred and reminiscent of a battlefield but of one that has been reclaimed by time and nature. The entire project offers a promise of peace for the present and the future at the same time. I can't recommend it highly enough. It's a beautiful and restful memorial, which is supposed to be as inspring at night as it is during the day. I'm proud and grateful that it's in my township.
I put the photos up at Flickr, with which I'm not completely comfortable yet but I think you should be able to navigate around the photos fairly easily from that link. There are only six to look at. Click on the thumbnails to see a larger view and read the captions.