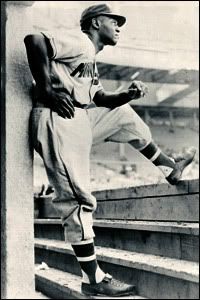 I got to talk to Buck O'Neil once when he was a guest on Radio Times, the local NPR interview show. I can't remember what I asked him - something about Babe Ruth and homeruns and the McGwire/Sosa pursuit of the Maris record, which was happening that year. I spent a lot of time thinking of a question that didn't make me look like a complete goof. Anyway, I gave my name as Robin from Bucks County. He found that charming.
I wish I could be as gracious as he always was about not being in the Hall of Fame but I can't manage it. He was the first African American coach for Pete's sake. He should be in there . I think that part of his apparent acceptance of continuing to be overlooked came from his deep involvement with the Negro Leagues Baseball Museum, which is planning an expansion:
The Buck O'Neil Education and Research Center will be part of an expansion of the NLBM to be built at the historic Paseo YMCA, the birthplace of the Negro Leagues. The NLBM's goal is to raise $15 million to renovate and expand the Paseo YMCA. The money will fund the construction, renovation, exhibits and an operating endowment. Incorporating the latest in interactive technology and state-of-the-art research equipment, the expanded NLBM and Buck O'Neil Education and Research Center will allow visitors, students, researchers and baseball fans to study every aspect of the Negro Leagues.

"Buck is a one-of-a-kind legend and we will miss him with all of our hearts," said Mark Bryant, President of the NLBM Board of Directors. "It's a great comfort to know that his selfless spirit and his tremendous legacy to baseball will live on, and the staff of the museum and the Board are committed to extending and enhancing his legacy. "And, fortunately," Bryant said, "Buck prepared us well for this day. He said many times that to him this new education and research center was his top priority. It will be a great tribute to him for all of his supporters to help us make Buck's dream a reality."
If you want to make a donation, you can do so here:
Tax-deductible contributions can be made through the Negro Leagues Baseball Museum website. Checks can be made out to the Negro Leagues Baseball Museum and mailed to 1616 E. 18th Street, Kansas City, MO, 64108. In addition, contributions can be made by phone toll-free at 888 221-6526.
I hope he says hi to Gil Hodges.
Good story in the NYT about Buck.