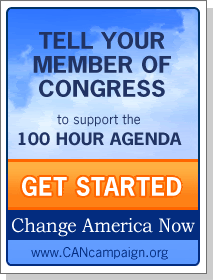 It's very important that Congress hears from you about your support for the 100-Hour Agenda. In case you missed it, the economic part of the agenda will:
* Make College Affordable * Lower the Cost of Prescription Drugs * Repeal Oil Tax Breaks * Raise the Minimum Wage
Click on the image above and you'll be taken to a page that will help you call your member of Congress. BushCo is working hard to drown out the buzz the Democrats and the agenda are getting with his "new" plan to destroy Iraq and the American armed services. Calling your Congressperson is a civic action that won't take too much time and will make a difference - speaking truth to power always does.