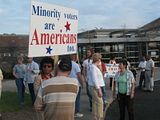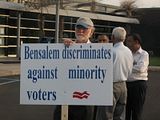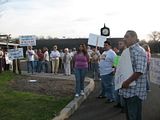 Photos from Voting Rights rally in Bensalem, PA last night.
Voter suppression is being alleged in Bensalem, PA because a polling place that's been existed for eleven years has been moved out of an apartment complex where mostly immigrants, minorities and senior live. From the Bucks County Courier Times story describing the protest rally that was held last night:
Racism, fixed elections and dirty politics were some of the accusations that flew at a Bensalem protest Monday night.

More than 50 residents and concerned citizens gathered at the Bensalem municipal building to protest the Bucks County Board of Elections' decision to move a polling place from the Creekside Apartments complex to the Polish Army Veterans Hall, one mile away.

The apartment complex houses a large number of minorities and elderly, low-income and disabled people who may have difficulty accessing a different polling place.

Those who criticized the decision believe the motivation was political. In the 2006 general election, 330 people in the Lower Middle 5 District voted Democrat while 98 people voted Republican, according to voter records.

Those supporting the change, including township Solicitor Joseph Pizzo, claim it was an issue of safety because of recent shootings at the complex.
Last night a speaker at the rally wanted to know why the crime rate in Creekside, which is dropping, suddenly warrants moving an established polling place? Two people complained to the county that they didn't feel safe voting there. But it more likely has something to do with Bensalem's revitalized Democratic party and the Democratic win of a city council seat, which broke up the Republican domination of that body. The tide seems to be turning in Bensalem and it looks like the Republicans don't like it.
They'll have a lot more not to like soon if the residents of Creekside maintain the energy and determination they displayed last night at the voting rights rally. The next test of their perseverence will be to organize safe transportation for Creekside voters to the new pollling place, which is across a major thoroughfare and then a mile away. If they are able to get every registered voter in the complex to the polls on Election Day, the people who made it more difficult for the residents of Creekside to vote may get something they didn't bargain for, as they find out exactly what the vote means to people who, as Al Sharpton said, didn't get it by turning a certain age but buy working for it.
You can read more about Republican Voting Integrity at Digby's place and get an idea why people would suspect that the same sort of thing is happening now in Bensalem.
UPDATE: More coverage.