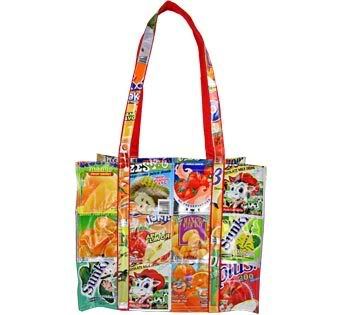 I'm on vacation but TyPo, the psychic blogging hardware is working for me.
Salon says that plastic bags are killing us and after reading that story, I believe them. Read it, get depressed, come back here, buy a tote made out of drink bags, feel better.
Reduce, reuse, and recycle takes on a fashionable new twist with our colorful and durable Bazura™ "Save The Trees" Grocery Bag! Made from recycled drink bags, they provide the perfect dose of joie de vivre, and remind you of the environmental impact of product packaging while you shop!

Made by a women's cooperative in the Philippines using cleaned, recycled foil juice packs. Naturally indestructible, these empty foil juice packs could have clogged landfills for thousands of years if not reused into these incredibly long-lasting bags!