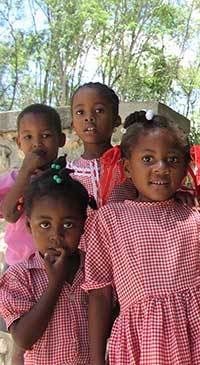 Oui, c'est Haiti! TyPo never fails! And you won't believe how inexpensive it is to feed a child for a whole year in one of the poorest countries on the planet as it struggles to recover from devastating years of war:
For years, parents in central Haiti faced a terrible choice. They could send their children to school with empty stomachs, in the hope that they might gain the skills to someday escape poverty. Or they could keep them at home to work in the family gardens, to help produce much-needed food for right now.

Thanks to the dedicated efforts of Partners in Health's child nutrition program, more than 17,000 children at 28 schools in central Haiti receive piping hot lunches every day—free of charge. Local cooks employed by the program prepare the nourishing meals from hundreds of giant sacks of rice and beans, distributed regularly by PIH as part of the expanding struggle to eradicate child malnutrition from Haiti's impoverished Central Plateau.

The broad smiles of the children are mirrored by their teachers, who know the tremendous impact this program has had on their schools. Now that parents no longer have to choose between education or food for their children, school attendance has increased significantly. And so have the attention spans and classroom performance of the children once they get to school.

"Before the lunch program started, many of my students would come to school hungry or wouldn't come at all," recalls one teacher. "Since we began giving daily meals, they hardly ever miss a day and their academic performance has improved dramatically."

"The program is one of the cornerstones of our commitment to social support in the Central Plateau," notes PIH's Food Assistance Coordinator Elisabeth Berger. "Its strength is that it takes a proactive community-based approach to preventing child malnutrition, ensuring that children won't have to come into our clinics as patients."

Purchase of this Gift That Gives More™ ($50) provides an entire year's worth of food for a hungry child in Haiti, where malnutrition among children is the worst in the Western Hemisphere.