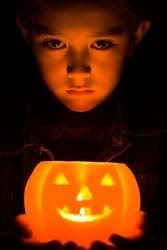 In honor of the most frenzied holiday of all, I would like to take a final, quiet moment to remind readers of what has become My Favorite Halloween Story. It's one that should remind us all of what really matters not only on Halloween but on all holidays - no - on every day. I'm sure the telling of it will become a tradition in your family as it already has in mine. Tonight I happily stalled the kids' candy grubbing activities a full fifteen minutes as I forced them to not only listen to me read The Halloween Story but then also spend time reflecting on their good fortune to be free to run through nearby neighborhoods at will. As you will see, not every child has that opportunity, but sometimes a Halloween Miracle happens for those children and Halloween is saved. Please read on and let yourself be inspired by a man who created just such a miracle for just such children.
While on one of our early "undisclosed location" work trips, (which were always driven by unfolding threatening events and were therefore unscheduled and unanticipated by our families and us), coincided with Halloween, which I am sure you know is the favorite event of most children's lives. The Cheney grandchildren were required to accompany us on this particular trip, yanked out of school and away from their much-awaited night of Trick-or-Treating. Their disappointment being trapped in the desolate, nothing -to-do location was heartbreaking, as was our own, missing our small children that night. While I was working up a pretty annoying whine, Scooter flew into action, finding treats, creating costumes and arranged an ad hoc Trick-or-Treat and Halloween games for the kids. This was no small undertaking given our removed location and minimal resources. It took hours and a very creative effort on his part. And when the little ones finally trotted off to bed happy and full of candy and stories, Scooter went back to work, as was always the case, late into the night.
Happpy Halloween every one!