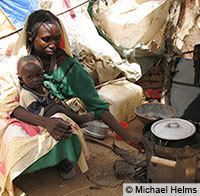 From the Hunger Site:
The Berkeley Darfur Stove is only five small pieces of bent metal, but its impact is too great to measure.

Since 2003, hundreds of thousands of African Sudanese have been killed in Darfur and another 2.2 million people — mostly women and children — are crowded into camps surrounded by a barren landscape. Venturing outside these boundaries in search of fuel to cook their meals often ends in violence.

But what if these women didn't have to leave the safety of the camp as often? What if they had a stove that required up to 75% less firewood? They do: It is the Berkeley Darfur Stove, and it is changing lives.

The Berkeley Darfur ultra high-efficiency cook stove:

Can be built in Sudan by locals, enabling them to earn extra income and become part of the solution
Is suited to local high-temperature and high-wind outdoor cooking methods
Emits less smoke than other stoves, minimizing smoke inhalation
Uses up to 75% less fuel, enabling women to minimize the dangerous 7-hour treks outside the camps to gather wood
Helps the denuded environment recover from severe overharvesting

$20.00 will purchase a Berkeley Darfur Stove for a family living in the Darfur refugee camps.