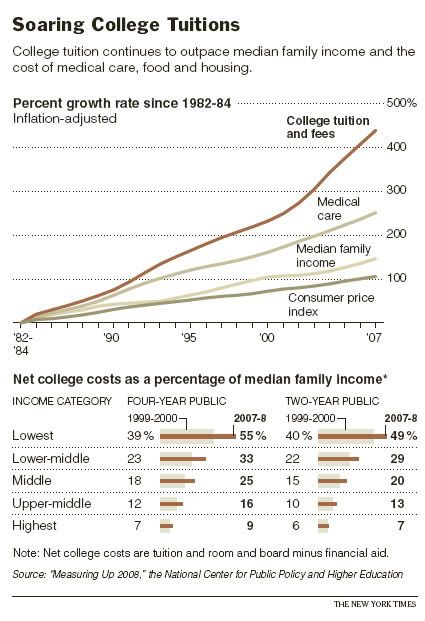 File under No Surprise:
The rising cost of college — even before the recession — threatens to put higher education out of reach for most Americans, according to the biennial report from the National Center for Public Policy and Higher Education.
Over all, the report found, published college tuition and fees increased 439 percent from 1982 to 2007, adjusted for inflation, while median family income rose 147 percent. Student borrowing has more than doubled in the last decade, and students from lower-income families, on average, get smaller grants from the colleges they attend than students from more affluent families.
"If we go on this way for another 25 years, we won't have an affordable system of higher education," said Patrick M. Callan, president of the center, a nonpartisan organization that promotes access to higher education.

Good news though!  You don't need to go to college if you want to see the world as long as you want to dodge explosive devices and kill the people you meet. 
Remember the message of the serious and important thinker, imperialist cheerleader, Niall Fergusson:
From Greg Gandin's Haper's review of Niall Fergusson's Colossus:
The point of Colossus is that the United States not only can match Britain's empire but can do empire better.  Hence Ferguson's calls for cuts in social spending to make for a more desperate and therefore more martial American citizenry.   But because this
hardened society has yet to be forged, Ferguson, who for hundreds of pages exhorts American leaders to show bold leadership, must settle for the role of court
flatterer, whispering into the emperor's ear to dissemble, to declare publicly his intentions to vacate Iraq while furtively staying.
From the NYT story Youths in Rural U.S. Are Drawn to Military:
Albert Deal, 25, had struggled for years to hold onto a job in this rural Virginia community of rolling hills and shuttered textile mills. So when the lanky high school graduate got his latest pink slip, from a modular-homes plant, he took a hard look at his life. Then he picked up the phone and dialed the steadiest employer he knew: the U.S. Army.
Two weeks later, on Oct. 27, Deal sat in his parents' living room and signed one enlistment document after another as his fiancee, Kimbery Easter, somberly looked on.
"This is the police check," said Sgt 1st Class Christopher A. Barber, a veteran Army recruiter, leading Deal through the stack of paperwork. "This is the sex-offender check . . ." Barber spoke in a monotone, sounding like a tour guide who had memorized every word.
Left adrift, young people such as Deal "are being pushed out of their communities. They want to get away from intolerable situations, and the military offers them something different," said Morten G. Ender, a sociologist at the U.S. Military Academy at West Point.
To be sure, some young people who need jobs or college money also seek adventure and a chance to serve their country. Others come from towns with large bases or populations of veterans interwoven with a military culture that helps keep enlistments high.  And a rising percentage of youth from wealthy areas is signing up, presumably for patriotic reasons.
But nationwide, data point above all to places such as Martinsville, where rural roads lined with pine and poplar trees snake through lonely, desolate towns, as the wellspring for the youth fighting America's wars.
"They are these untapped kids," Enders said "that nobody found."
Untapped or tamped down? Investment in cradle-to-college education has to be part of our plan to recover from this current economic crisitunity. Education often gets outshone by the glamourous possibilities of Green Energy! and the desperately needed reality of Health Care Reform! but we aren't going to be able to be players on those fields without a highly educated population to fill them. Forget about the United States leading the world to a brighter future. Our children will be relegated to staffing the world's army. No thank you.