I'm studying Buddhism informally. One thing I've been grateful to learn about is the importance of intention. So do I think that blogging about my wish for a Free Burma (and Somalia, and Iraq, and Iran, and Palestine, and Detroit ...) is going to get a free Burma? I don't know but it couldn't hurt. When the monks asked for people to sit with them in solidarity at 8pm their time for three days, I did it. I signed a petition. I emailed the UN. I can do this too. Can't hurt.
So not for nothing, but look at this photo: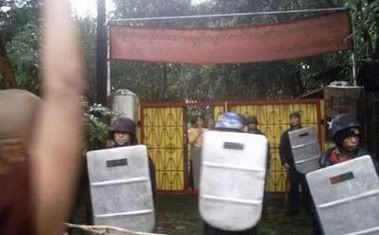 Before you see the slightly blurry image of Suu Kyi standing in prayer at the open gate - before you see the upstretched arm of the monk in the foreground, you see the shields of the soldiers. Just like the shields probably held by soldiers who later took Suu Kyi to prison and of soldiers who later beat thousands of monks to death or near-death and dumped them in swamps. We always see the weapons first, which is part of the point of the weapons. But look harder and the Suu Kyis and the monks are there as well. If you're lucky, you see one when you look in a mirror. I'm betting you do.