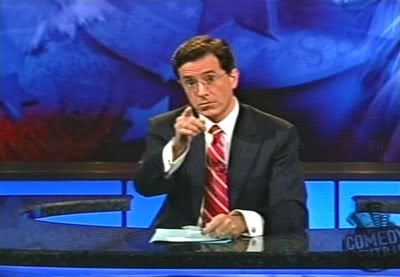 Okay, okay, okay. We know what happened on Election Day. Chuck lost. Doug lost - that one stung since I helped canvass for him. But it mostly hurt because Doug is one of those people you want to have in public office. He's smart, dedicated, thoughtful and ready to work. Up in Harrisburg all of those qualities are in short supply. The guy who beat him did it with some sleazy tricks. We're not talking Donald Segretti here but dirty enough to make me vote for his opponent, Dave Steil, in the fall. Steil, who is a paragon of integrity (and inaction), will win in a walk and I'll be glad to see it happen. I can vote for the Democrat next time around. I hear it's going to be Steve Santarsiero, who's currently the chairman of our township board of supervisors. Steil may not run next time and if that happens, that race will be hot.
Robin Rosenthal also lost her race for the state senate - that one shocked me. She had the party's endorsement and campaigned like hell but Chris Serpico pulled it off. He's got a tough summer ahead of him againstChuck McIlhinney, who's currently a state rep. Frankly, I don't see how any of the incumbent PA legislatures get re-elected since they are essentially useless. With the pay raise hanging around their collective neck, they should all get tossed. But they'll mostly all get re-elected because that's politics and name recognition trumps everything. It's like that Partridge Family episode where Keith got the big time gig because he fit the suit.
Valerie MacDonald Roberts lost - that hurt too. I didn't write about Valerie because I got turned on to her campaign late, but she was the progressive candidate for Lt. Governor. She would have been a great answer to the rightward drift of the state party and someone I could have been happy to vote for. Instead the incumbent, dotty Catherine Baker Knoll, famous in Wingnuttia for "crashing" a Marine's funeral and flashing her business card, won.
So the day was, on balance, not so great. Although I am looking forward to watching Fitzpatrick run against Patrick Murphy. I didn't support anyone in the PA-08 primary but I hate Fitzpatrick's politics like poison so I'm all-in for the general. I'm not sure that Murphy can beat Fitzpatrick. He's got the full support of the DLC, which is all excited about backing a "fighting Dem," but he's inexperienced in government, not good on his feet and, no matter what the campaign likes to say about Patrick being from Bristol (south end, working class part of the county) he's not a Bucks County guy, which matters to Bucks County guys. I don't get it but it does. On top of that, Fitzpatrick has a very strong base in working class Levittown, which is right in Murphy's kitchen. If there's one thing that beats name recognition, it's being the local boy. So you've got the wealthy north end of the county voting GOP because it's their birthright and the southend liking Fitzpatrick because he's one of them. Plus the national GOP really wants to hang on to this seat. And we've seen what those people do to veterans. In his "congratulatory" press release Fitzpatrick already started calling Murphy a "cut and run liberal." It's nonsense of the first order - Murphy is no liberal and he's not talking anything close to cutting and running - but that's the way the GOP rolls. So we'll see. I hope I can find time to write more about this race because it should be a good one.
But enough about politics. You may be asking why is a picture of Colbert up there? Well, it would be enough to say that every post I write should be topped with a photo of Colbert because he is so hot. But that's not why. And now I have to take the kids to school so I'll tell you later.